This plugin is a step sequencer for controller events and can be used to automate pan, volume, filter cut-off, resonance and many more. Generate rhythmic sequences of controller events that are based on patterns of controller values:
(click image to enlarge)
Some of the main features of the plugin are
Trigger Mode. Choose when a pattern restart:
Continuous: Restart a completed pattern immediately after it has finished
Measure Aligned: Restarts a completed pattern at the beginning of the next measure.
Note On : The pattern is restarted each time a new note is played. This options allows a kind of "controller envelopes" for each note.
Interpolation. Generates a smooth series of controllers between the steps
If one does not want these "big jumps" between the controller values of two adjacent steps, switching Interpolation on will generate a series of controller values.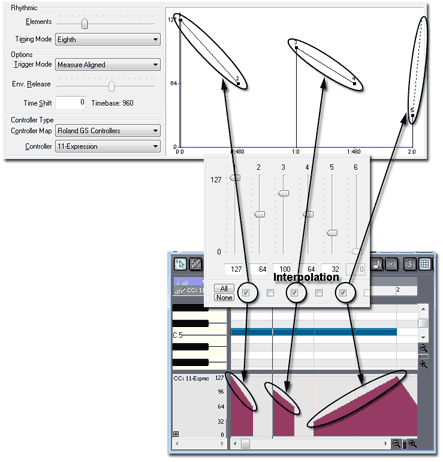 Please note the dashed line after step 5. If Trigger Mode is set to Continuous or Measure Aligned an interpolation after the last step will generate controller values until the pattern is restarted.
User-Defined Timing.
In a lot of situations one wants to use patterns that have an "uneven" timing instead of generating controller events every - let's say - eighth or sixteenth note. So, enter the time you need between two steps.

The distance between steps 1 and 2 is set to 12 ticks, between steps 2 and 3 to 24 ticks.
Examples.
Example 1. Simply listen to this short audio example:
It was generated from the settings shown in the image on the top. First you hear some long, static notes. That's what you play! After that the real-time controller events are added giving your notes the groove your music needs. If you don't like the result just move some sliders in the plugin and get completely different results.
Example 2. Or listen to this example:
You hear a well known melody that changes each of four times being played.
| | |
| --- | --- |
| First time | Meldoy played with a simple saw-sound |
| Second time | Played with a pattern that modulates the filter resonance. The pattern is restarted for each note |
| Third time | A pattern that modulates the expression controller (Controller 11) is used |
| Fourth Time | A combination of 2nd and 3rd. Two instances of Rhythmic Controller were used - one which controls filter resonance and one for expression controller. |